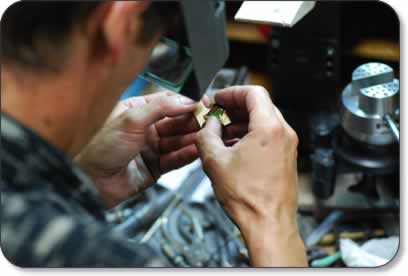 What our loyal customers especially appreciate about us is our one-stop destination business. From our wide array of jewelry and custom jewelry making services, to repairs and appraisals, you can get it all done right here at Simply Unique Jewelry Designs.
That's why our clients return time and again over the years. With our full-service menu of options, you never have to go anywhere else for any of your jewelry needs. In house and at your service is our core motto. Trust Simply Unique Jewelry Designs to get it done on time and right the very first time.
Menu of Jewelry Services Offered
Broken ring shanks
Ring sizing
Prong re-tipping or re-building
Stone resetting or tightening
Chain repair
Jump ring replacement
Affixing charms to bracelets
Gold plating
Rhodium plating
Pearl restringing
Reinforcing worn-out bails
Most often we work in platinum, gold, or silver, but we are always up for a challenge. If you have a question or would like to show us your broken piece of jewelry for an estimate, please stop by and let our expert jewelers assist you. By using both torches and a laser welder, we can perform repairs that cannot be done simply with a torch. We do not repair watches, but we offer battery replacement services.
FAQs ABOUT OUR SERVICES
How long do jewelry repairs take to complete?
Most jewelry repairs can be completed in a week. If we need parts maybe a few days more and during the holiday season maybe a bit longer. We have one of the speediest repair time frames in the area because we have two jewelers on-site. Your item never leaves our premises unless it is bead or pearl restringing. This is done by a close friend we have know for more than ten years. .
Do you guarantee jewelry repairs?
Yes! We guarantee our work without requiring an additional warranty. We guarantee our repairs (where we repaired the item), items we sell, and custom design work for one year from the date of pickup. We will repair any problems or replace as warranted during this time due to structural issues or normal wear and tear.
We cannot cover pieces that have been abused, such as going through a garbage disposal, rolled over by a vehicle, crushed in a doorway, or battered in a motorcycle accident (although these are all real customer stories!) For items not covered by our guarantee, we're happy to repair them at our normal rates with remarkable results.
How much do jewelry repairs cost?
Repairs may start as low as $25 with ring sizing starting at $40 and up depending on the size up or down needed, thickness of the shank, metal used, and the number of stones in the item. The current gold market greatly influences the repair price.
For an exact estimate, bring the piece into our store. We cannot accurately quote a price until we can see the item, learn why it is broken, and make a thorough assessment of its repair. So, we do not quote repair costs over the phone!
What jewelry repairs won't you perform?
Some repairs are not recommended, when we determine that it will not last or hold up to normal wear. We will advise you in such cases not to repair an item because we want to make sure your jewelry is wearable.
JEWELRY APPRAISALS
There are many reasons why you may need a properly executed jewelry appraisal. Most customers need one to add that item as a rider to their insurance policy for protection against loss or damage.
But there are other reasons too. When dividing up an estate, or for divorce settlement, or something as simple as gift giving, an appraisal helps those involved understand the current value of the item.
If you've had appraisals done years ago, it might be time to update them. Over time, the value of precious metals changes, as well as diamonds and gemstones. Keep your valuables protected with a current appraisal.
Call or stop in today to learn more about our appraisal services and how they can provide peace of mind for your valuables.
JEWELRY CONSIGNMENT
Like most of us, you have jewelry you inherited or has been languishing in the back of your jewelry box. Maybe it just doesn't suit your lifestyle – or perhaps your tastes have changed.
Our consignment program provides a way for you to sell your unwanted fine jewelry through our jewelry store. Many people enjoy collecting what is called estate jewelry because it is usually pieces that are hard to find now. We are very picky on what we allow into our consignment case for we do stand behind our consignment sales for a year also. We also look for unique or different items.
We'd love to tell you more about how you can turn your unwanted jewelry into cash. Come in soon—bring your item with you so we can discuss this opportunity further.